Change Your Life And The Lives Of Others
World Class Hypnotherapy Training
What Is Hypnosis & Hypnotherapy?
Current thinking in Psychology generally agrees that we all have a Conscious Mind and an Unconscious Mind. Making a change in our attitudes, beliefs and values is not easy for most people to do, because they approach the change consciously. But for a change to happen it needs a two-pronged approach to the Conscious Mind and the Unconscious Mind.
Hypnosis facilitates that by making the Unconscious Mind more amenable to suggestion from the Hypnotist or even by you.
The Unconscious Mind is the part of you that runs your body. It allows you to breathe you while you sleep. It makes your heart beat. It causes your nerves to send information along the neural pathways. The Unconscious Mind is the source of the intelligence of your body and Hypnosis and Hypnotherapy allow you to tap into the power of the Unconscious Mind to change your life for the better.
After years of research, anyone can be confident that hypnosis is a credible, scientifically-based process for successfully creating change at the unconscious level.
We think it is for everyone as it is one of the most powerful set of tools to help oneself and others. However, people who learn hypnosis or become hypnotherapists commonly include those who're looking to improve their life or business outcomes, those who help others do the same, including – life coaches, success coaches, therapists, psychologists, psychotherapists, business executive and most certainly those looking to help others get rid of phobias, unwanted behaviours and addictions.
The general public do not have the ability to do this. But as a hypnotherapist, you are able to use specialised techniques that penetrate the conscious guards of your client's and allow them to tap into the power of their unconscious mind.
You can then create change at an unconscious level and truly help people by getting to the root of their problems. Willpower can only do so much when you're trying to change. But by targeting the unconscious root causes of one's mental and physical wellbeing – you are able to create change that lasts.
After undertaking your hypnotherapy certification training, you'll be able to fast track anybody's journey of change. Of course, you'll be able to apply the knowledge you gain to your own life and achieve greater success
As a Hypnotherapist, what will I be able to do?
By learning Hypnosis, on one hand, we are learning how to be superb Hypnotherapists, able to lead others to the rich benefits of trance. On the other hand, we are learning how to be very good hypnotic subjects, so that we can access those benefits by entering trance ourselves.
With Hypnosis, you can tap into real power to create change in your life, heal what needs to be healing, preserve learning experiences from the past, and make new neurological connections to manifest your dreams. For these purposes, we teach NLP, Time Line Therapy® and Hypnosis to hundreds of people each year. If we have, and build, rapport with our Unconscious Minds, we will have all the resources we need to create the future of our dreams and control our own destinies.
YOU'LL HAVE THE POWER TO HELP OTHERS:
• Quit smoking
• Control pain
• Lose weight
• Enhance performance
• Increase confidence
• Overcome fears and phobias
And so much more…
What can I expect from at the Hypnosis Certification Training?
This 4 day program will enable you to accelerate desired transformation in behaviours and inspire physical, mental health and wellbeing.
During the course you will learn how to guide yourself and others to quit smoking, control pain, lose weight, reduce stress and enhance performance.
This 4 day program would be suited to individuals seeking positive change in their lives, health care professionals and practicing therapists. You will learn and be taught through captivating conversation, enlightening demonstrations, interactive exercises.
You will be able to use hypnosis immediately after this fun filled informative training.
At the end you will take a home your manual to complete your open book test.
Once your test is complete and you have your certification you will be able to see clients and start changing lives.
During the Hypnosis Training, You'll Learn Effective Hypnosis Techniques to:
· Change Your Life and Assist Others to Change Theirs
· Create Effective Suggestions to Use In Hypnosis
· Create Powerful Motivation for Change
· Stop Overeating
· Stop Smoking
· Eliminate Stress
· Record onto USB or Digital Audio
· Use Hypnosis Legally and Ethically to Create Change
Hypnosis has been scientifically proven to be effective in creating change in certain repetitive behaviours including smoking and weight loss, stress reduction, motivation and pain control. Our accelerated weekend hypnosis training course is excellent for anyone who wants to learn hypnotherapy with a maximum of "hands-on" experience. Over the course of our hypnosis training you will be guided through the Basic Hypnotherapist training by one of our top instructors, using "hands-on" practice, lecture, and discussion.
You will find that you can use hypnosis successfully after just these 4 days.
If you want to receive your hypnotherapy certification, all you need to do is work through our suggested reading, and complete a written test and send it in during training. If you have any questions, you can always call us.
Join Me At The Hypnotherapy Training Melbourne
February 9 – 12 2024 (February 8 – 11 in the US)
Online via Zoom
Why Attend This Accelerated Hypnosis Training?
Hands-On Hypnotherapy Training
If you have taken other Hypnosis training, you will probably find this easier to learn than most. The reason being that we lay the course out logically, making it easy to learn by building on your success over the course of the training. You won't have to watch long, boring videos of someone else doing Hypnosis — YOU WILL SEE IT LIVE AND YOU WILL DO IT. You can learn it easily.
Outstanding Trainers
All of our trainers are certified hypnosis trainers as well as being either Certified Trainers of NLP or Master Trainers of NLP. Furthermore this hypnosis training is designed to be simple to learn and easy to master.
Learn New Ways To Accomplish Your Goals
If you are a parent, you will find that this is an eye-opener. If you are a therapist, you will wonder why you did not learn this earlier. If you are a health-care professional you will find that your practice goes more easily and smoothly. AND "IF" you are just interested in Hypnosis, you will love this weekend training.
Ongoing Support
In the offices, we have highly qualified personnel who are on hand daily to support you in getting the results you want. You can just call any time.
CERTIFICATION IN BASIC HYPNOTHERAPY
Upon successful completion of your hypnosis training, you will have the option of applying for Certification through the American Board of Hypnotherapy (ABH). Certification is currently US$120 per year and gives you the backing of an internationally recognized Certification Board.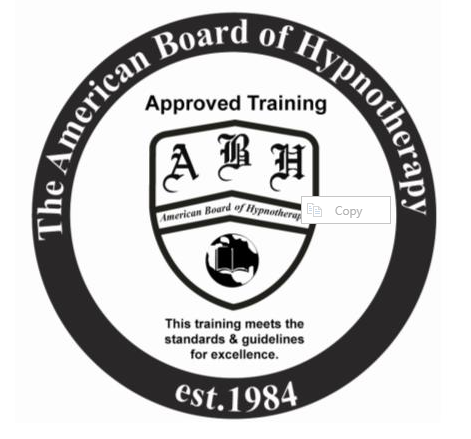 Join Me At The Hypnotherapy Training Melbourne
Oct 5 – 8 2023 (Oct 4 – 7 in the US)
Online via Zoom